Premium domestic cleaning services at a price you can afford!
Why worry about sweeping, vacuuming, mopping, dusting and cleaning all the surfaces of your home? A cleaner supplied to you through our domestic cleaning London service will clean your entire home to make it look like new once again, either on a regular basis or one off in preparation for any special event.
Regular Domestic Cleaning
Our regular service is for people who are looking for a cleaner on an ongoing basis. We offer a range of schedules including daily, twice-weekly, weekly, or fortnightly.
Let us know the frequency you need and we will allocate you your own permanent cleaner to take care of your home cleaning requirements.
We offer an easy and convenient payment system with no hidden charges. You pay us directly and we send you a cleaner every day, week, or fortnight, simple as that.
We don't tie you in to a long contract, you only need to sign up for 30 days at a time.
Our cleaners remain our employees and responsibility throughout and we are on hand to supervise, instruct, and clarify, ensuring you always receive a good quality service.
Why Us?
Enjoy the many benefits of choosing our regular domestic cleaning service: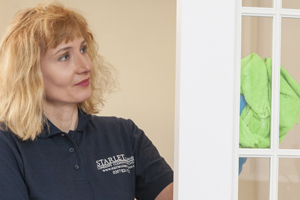 Superb customer service – we ensure that our domestic cleaning London services are delivered with the utmost professionalism.
Quality control measures to ensure the cleaner we supply to you always does a good job.
Holiday and sickness cover when needed.
fully insured for your peace of mind.
All our domestic cleaning services are
3 hour minimum booking and enjoy flexible service hours with affordable hourly rates starting at £21.40 per hour plus VAT.
Order our
Professional Cleaning
Perhaps you are a working mum or simply too busy to find the time for cleaning? We are pleased to offer very flexible options designed to fit with your particular needs. You can even choose to only have ironing or specific rooms of the house cleaned, such as the kitchen, lounge or bathrooms. After all, these are the rooms that your guests are likely to see first upon entering your home!
Ethical Cleaning Services
We pay our employees fairly so that they are reliable and committed to providing you with the highest standards of service. We are proud to be recognised as an ethical provider of cleaning services in the greater London area and are dedicated to providing you with friendly and respectful cleaners that remain affordable and dependable for any house cleaning London services.
As an employer we ensure that we pay our staff in excess of the national minimum wage. The national minimum wage does not however make allowances for the extra costs of living in the capital city and for this reason we offer our customers the option of receiving a cleaner from us paid the London Living Wage (LLW). All of the extra costs this option involves goes directly to our employees. Contact us for a quote if you are interested in receiving a cleaner paid the LLW.
There will still be companies who will continue to pay their cleaners at a lower rate and therefore be able to undercut our prices. However, we put a premium on treating our cleaners fairly and thereby attracting the best and most reliable staff. As a result we are rewarded with loyalty and this is reflected in the high quality of service we are able to offer.
A few more ways we can provide you with enhanced domestic services:
Our services come with public liability and employers liability insurance cover so that any malicious damage to your property or sustained injuries is promptly covered. You should never have to pay for someone else's fault!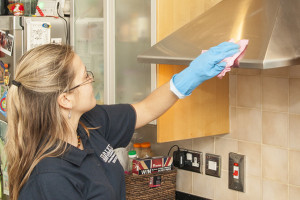 Pre-employment background checks are carried out on all of our staff, so that you can rest assured in the security that anyone entering your home has been properly screened. Passports are checked to ensure that they are working in the UK legally. Personal interviews and thorough selection processes are used to ensure only the highest quality staff.
Our training of staff is to the highest standards, and is recognised widely by the cleaning industry.
There are never any hidden costs for our domestic cleaning services in London. Everything is calculated up front and there are never any unpleasant surprises.
Our cleaners are regularly monitored so if there is ever an issue we are on hand to sort things out.
All work will be completed to your 100 per cent satisfaction. If you are unhappy with any aspect of our work, it will be completed at no extra charge.
One-off domestic cleaning
If you are looking for an annual one-off spring clean, or are planning to invite your guests to a special occasion, we can help you clean your house during any moment of crisis! Take the stress out of house chores by hiring our highly experienced and fully insured cleaners to tackle any job. You may have high windows and ceilings, or other hard to reach places, which can be impossible to clean properly without the right equipment. It can often be very tricky to knock off cobwebs or to clean elaborate house decorations. That's why it pays to invest in professional cleaning services. Our cleaners can bring our equipment such as ladders or carpet and upholstery machinery in order to take care of all the fine details involved in cleaning your home perfectly every time!
Areas Covered
We cover all Greater London areas. For more details on the areas covered by our home services in London (and other services such as carpet and end of tenancy cleaning), please visit our Areas We Cover page.
So whether you are looking for a reliable weekly cleaner, or need your home spruced up for guests to a house party you have been planning for weeks, we can be of help. Eliminate your stress by hiring our highly experienced and fully insured cleaners to tackle any domestic cleaning job.